Sell Your Santa Barbara Home For More By Updating Your Bathrooms
One room in the home that gets a lot of attention when discussing remodeling is the kitchen. This is for good reason. We spend a lot of time in our kitchens and updates can both improve the aesthetics of the home and also improve the function, essentially upgrading the WAY we live in our homes. Another room in the home that can definitely be a great asset when it comes to selling are bathrooms. Both in terms of looks and function, updated bathrooms can be a powerful way in increase your digital curb appeal and sell your home in Santa Barbara for top dollar.
Today, we're going to discuss different ways to update the bathrooms in your home and what features and amenities most Santa Barbara homebuyers are looking for.
Showers & Bathtubs: Add Some Luxury & Function To Your Bathrooms
One of the first items homebuyers in Santa Barbara will look at when viewing your bathrooms online, during a showing, or at an open house are the showers and tubs in the home. Most buyers are looking for updated showers and luxurious bathtubs when shopping for their next home. There are a handful of considerations to make, so let's break them down independently.
The Showerhead: Much more than just a rinsing device
Showerheads come in all shapes, sizes and functions. Additionally, they come made from various materials. Showerheads in California homes also need to be compliant with environmental regulations around water flow. Your showerhead can't exceed 1.8 gallons per minute in terms of water flow. Finding a product takes some time, but many showerhead makers are now able to ship compliant showerheads to California.
In addition to a compliant showerhead, you want your showerhead to look modern and match the current trends. Rubbed bronze showerheads offer a modern look and also the durability that plastic showerheads do not. A quality showerhead can go a long way in making the bathroom in your Santa Barbara home stand out to buyers.
Bath Tubs & Showers: Modernize & Prioritize Luxury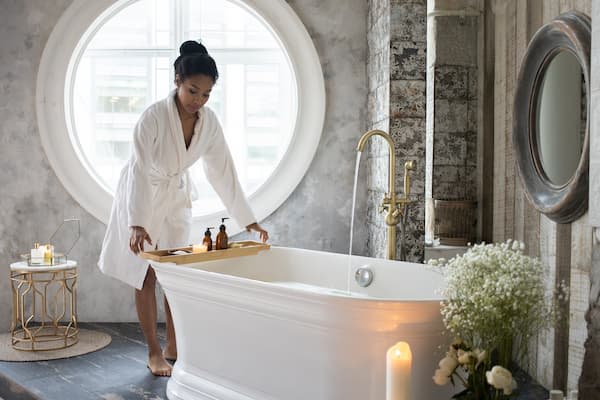 Santa Barbara homebuyers are looking for luxury, especially when it comes to bathroom fixtures. Showers and tubs can be upgraded to provide luxury to an en suite or even a main bathroom in the home. Whether it is a jacuzzi tub or a cold plunge tub, you can't go wrong with following some of the trends that are popular with homebuyers.
Replacing your tub is not an inexpensive investment, as some of the better bathtubs can run in the range of $2,000-$15,000. However, a luxurious en suite bathroom can be an attractive feature in your home and help it stand out from the crowd. One other type of tub that would be less expensive but can truly catch a buyer's eye is a classic clawfoot bathtub. These tubs were the standard in the early 20th century and have since made a comeback in home design. Depending on your home's overall aesthetic, a clawfoot tub could be a fantastic addition that helps you sell your Santa Barbara home for top dollar.
As for showers, frameless glass showers are among the most popular in bathroom design, and have been for a few years. Additionally, light colored marble shower tiles can add an aesthetic upgrade to your Santa Barbara Home prior to selling.
Should You Upgrade Bathrooms Before You Sell Your Home in Santa Barbara?
There are many considerations to take into account when preparing to sell your Santa Barbara home. You will want to get the best ROI for any remodeling project, and updating your kitchen or bathrooms are among the best projects to increase the list price of your home. A focus on digital curb appeal is something to keep in mind, and two of the rooms that buyers look at online more than others are the kitchen and bathrooms.
Digital curb appeal is a bit of a misnomer, as 'curb appeal' tends to be a term used to describe the exterior of the home, but digital curb appeal takes the entire home into account. Putting your home's best foot forward digitally is key to getting homebuyers interested in purchasing your home.
Thinking of selling your Santa Barbara Home?
Contact a top selling Santa Barbara Realtor at Maureen McDermut & Associates for expert guidance and concierge real estate service.