Montecito Homeowner's Insurance Is a Fluid Market
Top selling Montecito Realtor Maureen McDermut spoke with SFGate recently about how the ultra wealthy homeowners in Montecito battle to have their homes insured against natural disasters. Celebrities such as Oprah, Larry David, Tom Cruise and others have called Montecito home for years. So how do these famous people insure their homes against property damage caused by wildfires, mudslides, and other incidents?
Homeowners Should Get Creative When Insuring Their Homes in Montecito
As Maureen told SFGate, it is difficult to just go to an insurance broker and get a policy written for a home in Montecito. Often, the insurance carriers in the area won't even have homeowner's insurance available. But then, suddenly, they will. It takes timing and luck to use a local provider for insurance. That's why I have international and national carriers on speed dial for my home buyers in Montecito. Companies like Lloyd's of London and others are often the only option for properties in Montecito, as the policies are often in the tens of millions of dollars, and the premiums can run hundreds of thousands of dollars.
The lack of insurance isn't only cost-based. Insurance brokers are averse to risk, and the risk to properties in Montecito is often deemed too high to write a policy for. Incidents like the Thomas Fire weigh on the minds of insurance brokers, but this isn't true of home buyers.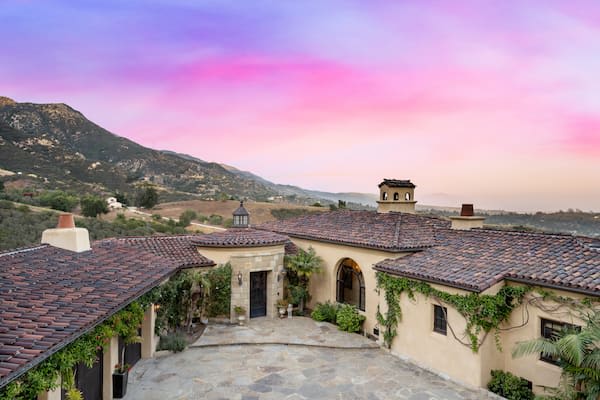 Why Do People Buy Homes in Montecito?
Montecito offers the ultra famous a modicum of privacy. Unlike the Los Angeles area, where the media hounds celebrities like Prince Harry and Meagan Markle ad nauseum, Montecito is a peaceful enclave where these celebs can live relatively normal lives. It is not uncommon to see the stars of blockbuster movies grocery shopping on a Sunday morning. Because the rest of the residents in the area are also famous or ultra wealthy, there is little interest in their status among their neighbors.
Montecito was developed in the mid-19th century when wealthy landowners took notice of the secluded area and started buying large amounts of land. The reputation Montecito gained for its Mediterranean climate and peaceful surroundings made it a place where the rich would flock to get away.
Adding to the allure was the arrival of architect George Washington Smith, whose Spanish Colonial Revival style became all the rage in the 20th century. In addition to the aesthetically pleasing aspects of living in Montecito, residents have seen home values appreciate at record rates. Homes are now averaging an $11 million sale, up from $3 million just a few years prior.
Hire a Realtor to Buy a Home in Montecito
For 22 years, Maureen McDermut has helped buyers purchase homes in Montecito. Using creative solutions to negotiate a purchase and also to get insurance policies purchased has helped her become a top selling real estate agent in Montecito. As Maureen explains "Most Montecito home purchases are cash sales. In the odd chance where a buyer wants to mortgage the property, the lender will require an insurance policy. So it takes a creative approach to obtain the policy, which is something I always have at the ready."
Buying a home in Montecito might seem tricky. Contact Maureen McDermut for the concierge approach to purchasing a home in this idyllic enclave.