Are you planning to sell your home in Santa Barbara and looking for ways to increase its value? One of the most effective ways to do so is by investing in home improvements.
And if you need funds to finance those improvements, a Home Equity Line of Credit (HELOC) loan can be a smart financial tool to consider.
In this blog, we will explore how a HELOC loan can help you finance home improvements that can boost the value of your home and make it more attractive to potential buyers.
What Is a HELOC Loan?
A HELOC loan is a type of revolving credit that allows homeowners to borrow against the equity they have built up in their homes. Equity is the difference between the appraised value of your home and the amount you owe on your mortgage. With a HELOC loan, you can access a line of credit up to a certain percentage of your home's appraised value, and you can borrow from that line of credit as needed.
One of the advantages of a HELOC loan is that it provides flexibility in how you can use the funds. Homeowners can use the funds for a variety of purposes, including home improvements, debt consolidation, education expenses, or other financial needs. However, in this blog, we will focus on how a HELOC loan can be used for home improvements to help sell your home.
Home Improvements That Will Add Value To Your Santa Barbara Home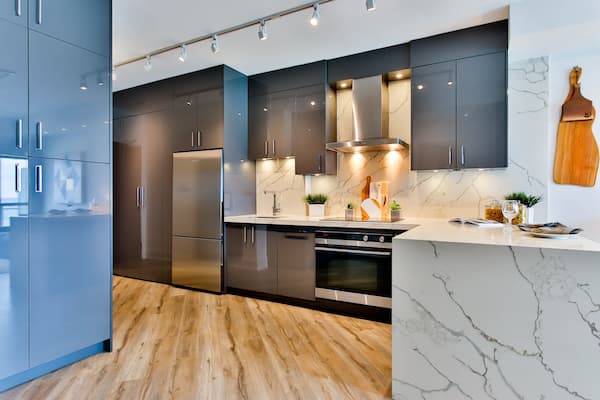 Not all home improvements are created equal when it comes to adding value to your home. It's important to focus on improvements that are likely to provide a return on investment (ROI) and make your home more appealing to potential buyers. Here are some examples of home improvements that can add value to your home:
Kitchen Renovation: The kitchen is often considered the heart of the home, and a well-designed, updated kitchen can greatly increase the value of your home. Consider investing in new appliances, countertops, cabinets, and lighting to give your kitchen a modern and functional feel.

Bathroom Remodel: Bathrooms are another key area that buyers pay close attention to. Consider upgrading your bathroom with new fixtures, vanities, and tiles to make it more attractive and functional.

Curb Appeal Enhancements: First impressions matter, and improving your home's curb appeal can make a big difference in attracting potential buyers. Consider investing in landscaping, exterior painting, a new front door, or updated lighting to enhance the curb appeal of your home.

Energy-Efficient Upgrades: Buyers are increasingly interested in energy-efficient homes that can help them save on utility bills. Consider investing in energy-efficient upgrades such as installing solar panels, upgrading insulation, or replacing old windows and doors with energy-efficient ones.

Home Additions: If you have the space and budget, adding extra square footage to your home can significantly increase its value. Consider adding a room, a bathroom, or even a deck or patio to expand your living space and make your home more appealing to potential buyers.
There are even many improvements you can make that wouldn't require a HELOC loan. These might not be top of mind, so check out the list here.
How a HELOC Loan Can Help With Selling Your Santa Barbara Home
A HELOC loan can provide the funds you need to finance home improvements without tapping into your savings or other investments. Here's how a HELOC loan can help:
Flexible Access to Funds: With a HELOC loan, you have access to a line of credit that you can draw from as needed. This means you can borrow the exact amount you need for your home improvements, and you only pay interest on the amount you borrow. The other benefit is the flexibility of use. HELOC loans can be used in a variety of ways, including home improvements, but also for debt consolidation or even to pay off college education. Some of these options may have downstream benefits at tax time, so you should consult an accountant or tax professional to learn more about those.

Lower Interest Rates: HELOC loans typically have lower interest rates compared to other forms of credit, such as credit cards or personal loans. This can help you save on interest costs over time, making it a more affordable option for financing your home improvements. Current HELOC rates are slightly elevated, due to the Federal Reserve's efforts to curb inflation, but they still pale in comparison to other forms of credit.

Potential Tax Benefits: One of the significant tax benefits of a HELOC is that the interest paid on the loan may be tax deductible, subject to certain conditions. According to the Internal Revenue Service (IRS), you may be able to deduct the interest paid on a HELOC if the funds are used to "buy, build or substantially improve the taxpayer's home that secures the loan." This means that if you use the proceeds of a HELOC to make eligible home improvements, such as adding a room, renovating a kitchen, or building a deck, you may be able to deduct the interest paid on the loan from your federal income taxes. However, it's important to note that recent changes in the tax laws have imposed certain limitations on the deductibility of interest on HELOCs. As of the tax year 2018, the Tax Cuts and Jobs Act (TCJA) has placed a cap on the total amount of mortgage debt for which interest can be deducted. According to the TCJA, the combined total of mortgage debt on your primary residence and a second home for which interest is deductible cannot exceed $750,000 ($375,000 if married filing separately) for new loans taken out after December 15, 2017. It's crucial to consult with a qualified tax professional to understand the specific tax implications of your HELOC based on your individual financial situation.
Currently, home prices are falling, but those that are doing the right things can still command a good asking price for their Santa Barbara home. Improving your home will help you sell it faster and for more money.