How To Win A Bidding War In Montecito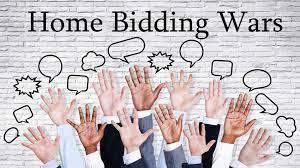 Limited inventory and low mortgage rates have created a large pool of home buyers looking to buy their next home. Montecito real estate is a competitive market under normal conditions, so in these historically unprecedented circumstances, it helps to have a Montecito Realtor that knows how to help you get the home you want. Sometimes, creative solutions are needed, and we're going to take a look at some real stories of how people are winning bidding wars.
Broadening Your Home Search
With limited inventory, it may be smart to think outside the box. By thinking about "what could be" instead of "what is", you can start to find homes that are ideal for your move.
Take the example of Ron Mohajer. Ron wanted to buy a home for his family, and in selling his pervious home in Los Angeles, decided to move to Montecito. But Ron was watching home prices rise in real time. Bids were coming in at $200,000 over asking price, and his family didn't have the requisite cash laying around to win against bids that high.
So, rather than find a home that had EVERYTHING on the checklist, he and his wife decided to find a home that they could then turn into their dream home. Once they were able to open their horizons, there were some homes where the price ended up being more agreeable to their budget. They settled on a smaller cottage-style house and started renovating. With the money they saved, they were able to add an extra bedroom and even an office for Ron's wife, who has been working from home since the pandemic hit.
Finding "Motivated Sellers"
While many usually shy away from the "motivated sellers" lingo in a real estate listing, be sure to look for that phrase. Home sellers are often in the same predicament that their buyers are; namely that they have to sell their current house in order to buy their next one.
This is what happened to Grace and Jennifer Adams. They were ready to put a cash offer in on a home in a particular price range, but were immediately getting outbid. Until they happened across a gorgeous listing, and knew it was their dream home. However, they felt defeated because of the number of times they had lost out on previous attempts. They went ahead and offered on the home, and as luck would have it, the sellers accepted and they were able to close. Why? Because the sellers of the home were buying their next house and were in a hurry to get their purchase deal done.
Sometimes, when you're looking for something, it helps to have a Montecito real estate agent that will go the extra mile to comb through listings and find the ones where you have an opportunity to win.
Find An Off Market Deal
For Matt Collings and his wife Sandra, it was getting so frustrating to buy a house that they were ready to give up. They have two kids and wanted to get them settled before the start of the school year, but that was looking like a near impossibility.
Sandra had been talking with a friend, who coincidentally had found a way to beat the rest of the buyers to the punch. A Realtor had a listing that hadn't hit the market yet and wanted to showcase it to other agents so they could create a multiple-offer situation on day one. Matt and Sandra were able to convince the sellers to sell their home before it even hit the market with a strong cash offer.
Creative thinking is essential in the Montecito housing market. Call Maureen McDermut today when you want to buy your next home.